Businesses across the U.S. should be on high alert and prepare for COVID-19 scams as fraud increases across phone and online sites.
People are concerned and looking to protect themselves, their families, and their employees.  But the risk is not just getting sick. In addition to health concerns, there is an increased danger of being victimized by fraud. Knowing how to prepare for COVID-19 scams is key!
Weekly Call Traffic Volume Breakdown
(In Comparison to Pre-COVID-19 Levels)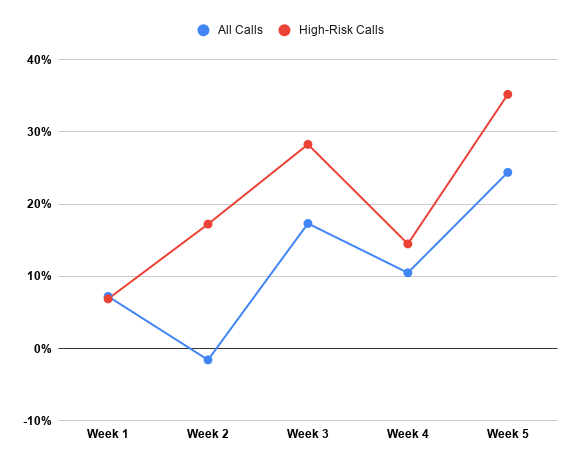 Week 1: March 16-23 | Week 2: March 24-30 | Week 3: March 31- April 6
Next Caller, a New York-based call verification company says that there has been a 30% increase in high-risk calls on average, and a staggering 41% increase for financial institutions.
Like the stealthy transmission of COVID-19, you might not even know that you've been scammed. While the phishing process uses familiar tactics to dupe people, the COVID-19 pandemic means that fraudsters can deploy techniques to gain the trust of unsuspecting or distraught individuals.
These new schemes use phony websites, mobile apps, emails, phone calls, and mail pretending to be official communication from healthcare providers, insurance companies, financial institutions, religious groups, delivery services, and government agencies.
Once an individual takes the bait by opening a link or creating a login on a website, the fraudster can use the compromised information to advance the scheme elsewhere.
Next Caller CEO Ian Roncoroni said: "Contact centers don't stand a chance when criminals can successfully pose as customers. It's the perfect storm for fraud."
How to Protect Yourself and Your Business from Covid-19 Scams.
Be wary of any new emails containing links or attachments, take care when shopping online, and to make sure you are buying from a genuine site or seller.
Make sure your email (both personal and business) is secure and train your employees to spot suspicious communications and avoid falling victim to fraud.
Where here to help you prepare for COVID-19 scams! Contact Nieto Technology Partners (https://nieto.com) today to see how we can help secure your email and train your users to be on the lookout for these scams.
What COVID-19 Scams should I lookout for?
Fake stimulus checks that extract real bank account information

Change information on accounts to later drain cash, savings, or point balances

Sending physical checks and debit cards then stealing them out of the mailbox

Opening new lines of credit or securing loans on the individual's behalf

Creating new businesses using some of the individual's information